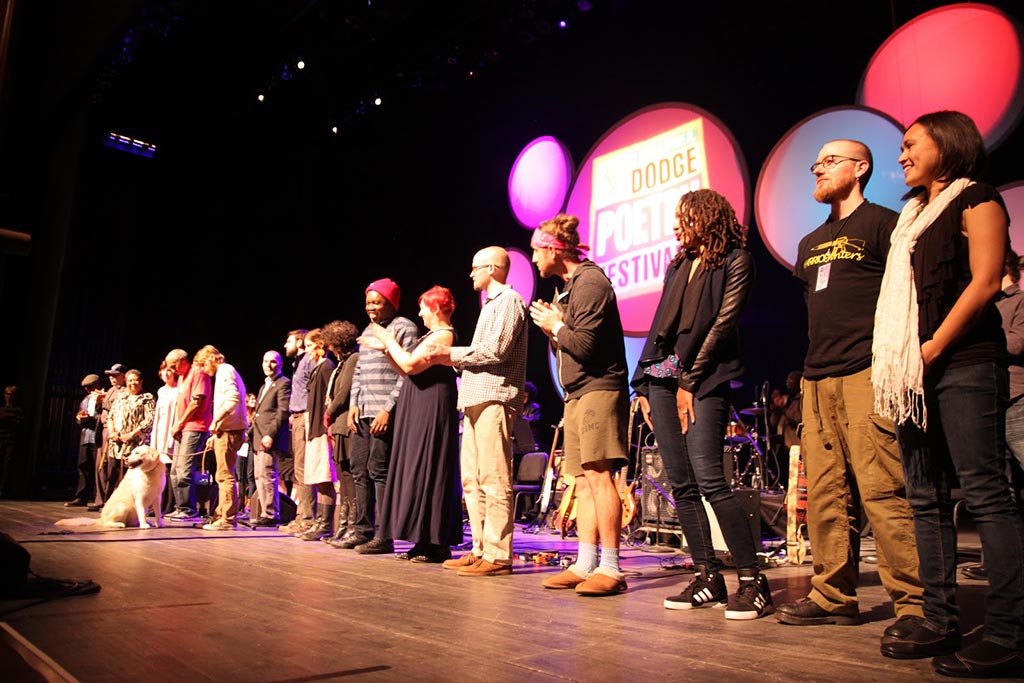 The Film
ANOTHER KIND OF COURAGE features moving performances by veterans artists and family members expressing their experiences with war and homecoming. The poets are Jan Barry, Kevin Basl, Chantelle Bateman, Jeremy Stainthorp Berggren, Lovella Calica, Jacob George, Charles H. Johnson, Jennifer Pacanowski, Brian Turner, Jon Turner and Eli Wright. The powerful, original music is written by Tomás Doncker and Yusef Komunyakaa and performed by Tomás Doncker & The True Groove All-Stars. Another Kind of Courage performance was conceived and directed by Martin Jude Farawell for the Dodge Poetry Festival at the New Jersey Performing Arts Center. Poets spoke their truths, bringing their stories to the 17,000 in attendance at the festival – moving some in the audience to tears, but more importantly, educating and advocating for change. This film of the performance is a collaboration between Warrior Writers and the Geraldine R. Dodge Poetry Festival, produced by Lovella Calica, Lynn Estomin and Martin Farawell, and directed/edited by Lynn Estomin.
Screenings

SemiFinalist, FilmArte Film Festival, Berlin, Germany, Oct. 2, 2023

Imagining New Futures, Columbus, GA, Oct. 20-22, 2023




29th Annual Twin Rivers Media Festival, Ashville, NC, June 17, 2023

2023 Michican City Public Library Video Festival, Michigan City, IN, May 6, 2023




Tortona Indie Film, Tortona, Piemonte, Italy, Nov. 14-18, 2022




Down East Flick Fest, Greenville, NC, Nov. 17-20, 2022




The Women's Film Festival, Philadelphia, PA, August 20, 2022




Social Justice International Film Festival, Seattle, WA, October 7-17, 2021




International Social Change Film Festival (ChangeFest), Chicago, IL/NYC/Los Angeles, CA
Sept. 25/26, Oct. 9/10; Oct. 23/24, Nov. 6/7, 2021




Films for Peace Film Festival, Toronto, Ontario, September 25, 2021




Freedom Festival International, Columbia, SC, August 19 – 22, 2021




307 International Festival, Laramie, WY, August 28, 2021.
Contact
Lynn Estomin, estomin@lycoming.edu