Excerpt from State of the Arts NJ PBS program, The Fog of War: Combat Paper and Warrior Writers, produced by Susan Wallner.
Geraldine R. Dodge Poetry Festival
Warrior Writers is proud that our members were among the honored poets performing at the Geraldine R. Dodge Poetry Festival at the New Jersey Performing Arts Center in October 2014. Warrior Writers Kevin Basl, Chantelle Bateman, Jeremy Stainthorp Berggren, Jen Pacanowski, Carlos Sirah, Jon Turner and Eli Wright; Warrior Writers Director Lovella Calica; and Warrior Writers Advisory Board member Jan Barry all read in "Another Kind of Courage," a special program at the 2014 Geraldine R. Dodge Poetry Festival. The Dodge Poetry Festival is widely acknowledged as the largest poetry event in North America, representing the most eminent poets from the late 20th and early 21st centuries. Nobel Laureates Octovio Paz and Derek Walcott have appeared at the Festival, along with poets from Bangladesh, China, Cuba, Denmark, France, Ghana, Ireland, Lebanon, Mexico, Nicaragua, Poland, Scotland, Sweden, Vietnam and the United States.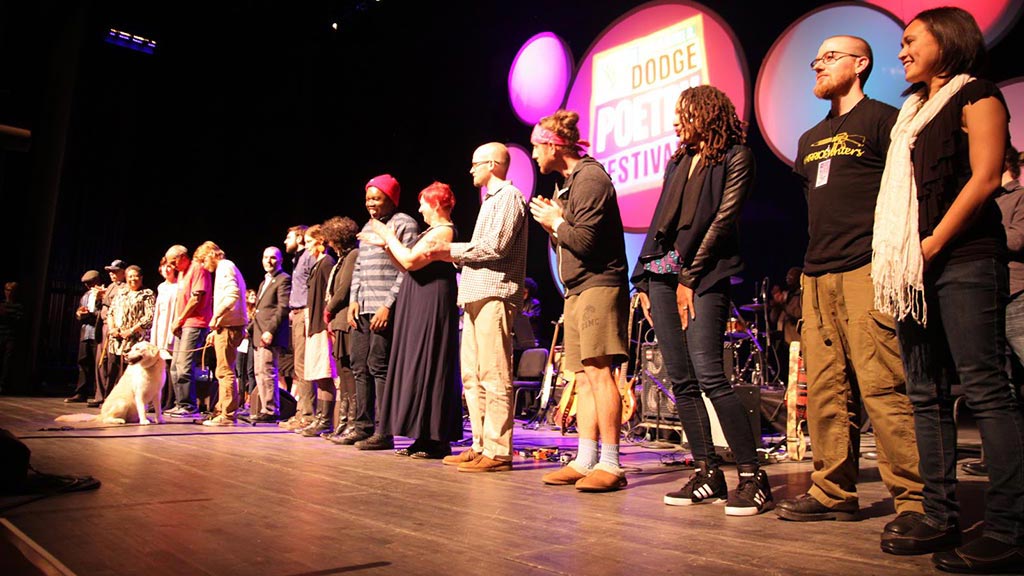 Video Clips from Warrior Writers Performances
Featuring Iris Madelyn, Jeremy Stainthorp Berggren, Chantelle Bateman, Jose Vasquez, Maggie Martin and Maurice Decaul.